We are the leader in Human Resource, Risk Management, and Insurance consulting services for businesses, organizations, and school districts in the Midwest.
Our commitment to our Clients....
We are committed to:
Being professionals shown through our words, actions, and business practices.
Selecting and training people with the core values of our business to ensure our service commitment.
Fairness and honesty in our business practices and ensuring confidentiality of client information.
Continuous learning, openness to new ideas, and creativity in serving client needs.
Excellence in service by being proactive and responsive to client needs and expectations.
The health and welfare of our people, our families, our clients, our community, and our country.
Our first Major Management Project
A group of investors desired to purchase an available building and operate a Dairy Queen franchise. At the time, we had just started our Human Resource consulting business, struggling to get started and eager to get our first big project; we outsourced our time to assist these investors in their venture.
We started with a complete interior remodel of the facility, incorporating a convenience store within the project. We spent several weeks in Minneapolis, MN at DQ Headquarters learning about operating a franchise for Dairy Queen. Upon returning from the corporate training for Dairy Queen we hired and trained all of the staff and completed our first successful large project by opening a Dairy Queen store with the convenience store concept in just over five months. Our clients were extremely pleased with the efficiency of the process. Also, Dairy Queen corporate recognized the project as the best store opening during that year.
Building Businesses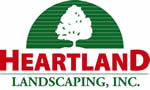 The combination of Bushue Human Resources management experience and a client's expertise in equipment and operations led us into the lawn care and landscaping business. Heartland Landscaping, Inc. was founded in 2003 by a group of investors interested in starting, developing and growing a successful landscaping business in Central & Southern Illinois. Heartland provides a comprehensive package of landscaping and lawn care services through local service centers in key communities located throughout Central & Southern Illinois.
In establishing our landscaping company, the owners have established some core expectations for developing a successful business including recruitment and retention of key employees with the experience and skills to provide excellent service and high quality work. "We feel that a "professional landscape employee""" is key to the success of our business.
Furthermore, we are interested in developing local service centers in key communities in order to enhance the customer relationships within each of our particular regions and expect our staff to be an integral part of the community within which they live and work.
We additionally intend to create a sense of "ownership" for our staff to enhance the commitment level necessary to provide high quality services for clients.
Property Management
We have built an investment business focused on building cash flow through passive income and building asset value. This business is focused on investment and management of properties which includes commercial office buildings, multi-unit apartment complex, storage facilities, and residential single family homes.
This business continues to grow through our comprehensive property management system including tenant management, maintenance, account & management procedures. Our plans are to continue developing this system and continue developing properties.